Financial Planning with MassMutual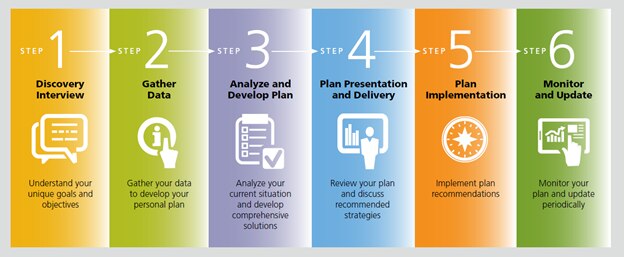 Each day we face difficulties in managing our finances. Inflation, taxes, debt, changing interest rates, and stock market swings - their effect can be unsettling. One thing we can be certain of is that the future will come, whether we are financially ready or not.
As a client, you and your MassMutual Financial Planner will develop a confidential relationship and follow a 6 Step Plan to ensure that your objectives will be identified.
Step 1: No Obligation Discovery Interview. At this meeting, a specially trained MassMutual Financial Planner will listen to your financial concerns and discuss what financial planning can do to help you achieve your financial objectives.
Step 2: Gather Information. If you decide to purchase financial planning services from MassMutual, we move on to the next and most important step: data gathering. This is where we learn about all of your financial goals, objectives, assets, liabilities, income, expenses and other relevant information. The foundation of a sound financial plan is having a clear understanding of who and what you are. This information is kept strictly confidential.
Step 3: Analysis and Development. A preliminary analysis of the information about you is prepared. This includes reviewing all of your objectives and determining if they are feasible. Your planner may consult, with your permission, with your attorney, accountant, or other adviser to make sure the data is complete.
Step 4: Plan Presentation and Delivery. After all of the alternatives and information is analyzed, a final plan will be presented to you. The final plan is a written document prepared especially for you by your planner. It contains specific recommendations designed to help you meet your financial goals and objectives.
Step 5: Implementation. We work with you to determine how to best implement each aspect of your financial plan. This may involve collaboration with other financial professionals you currently engage (i.e. CPA, attorney) or recommending appropriate financial professionals to you if desired. As a comprehensive financial services firm, we have the ability to use a wide array of providers and solutions to implement your investment, risk management, and estate and business planning strategies
Step 6: Monitor and Update as Needed. In life, one thing is constant: change. Each year, and perhaps more frequently, your income, investments, assumptions, and objectives will change. This is why your MassMutual Financial Planner stands ready to monitor and update your plan as needed.
A MassMutual Financial Planner can help you achieve your goals and will give you the guidance to:
1. Help reduce taxes
2. Save for retirement
3. Decide how to invest
4. Help you develop strategies to manage your debt
5. Determine proper insurance coverage
6. Offer custom-designed programs to try to achieve your special goals... buying a home or condo, retiring early, financing your child's education and more.

CRN202006-231454